Mario Balotelli is running out of Manchester City last chances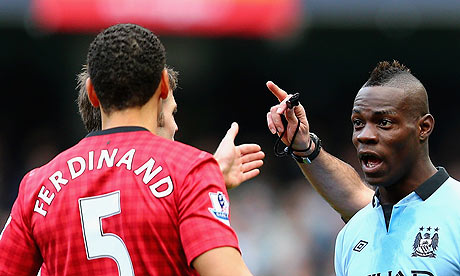 Mario Balotelli, right, exchanges words with Manchester United's Rio Ferdinand during Manchester City's derby defeat. Photograph: Clive Mason/Getty Images
Roberto Mancini took what may have been his last chance on Mario Balotellion Sunday. A last chance for both of them, perhaps. With so much at stake as Manchester City faced their local rivals, Mancini chose his 22-year-old compatriot to lead the line: a striker whose haul for the season amounted to one goal in 12 appearances.
Just over 50 minutes later, having given the performance of a man who would have had trouble leading a line-dance at Oldham Astoria, Balotelli was trotting to the touchline, exchanging salutations with Carlos Tevez and disappearing straight down the tunnel, peeling off his gloves as he went. Manchester City's fightback was about to begin.
It proved to be a stirring experience for the home fans. But it was not enough, and after Robin van Persie's stoppage-time free-kick had decisively reversed the momentum of the previous 40 minutes, it was impossible not to look back and see the selection of Balotelli as a decision that cast further doubt on Mancini's judgment.
Mancini has always believed in Balotelli, whom he brought to England two years ago, paying £24m for a 20-year-old whose off-duty escapades were already attracting more attention than his achievements on the pitch. Were he to fulfil his potential, the manager has always assured us, he would be recognised as the equal of Lionel Messi or Cristiano Ronaldo.
It was Balotelli's prodded pass that enabled Sergio Agüero to score the goal which gave City the title in May. But the only occasion on which Mancini's protege has lived up to the Messi/Ronaldo billing was in Warsaw in June, when he was wearing the blue of Italy rather than that of City while scoring the two fine goals which defeated Germany and took his country to the Euro 2012 final in Kiev in Kiev, where he was a negligible factor.
On Sundaywe saw the Balotelli of Kiev rather than Warsaw. Stuck in a familiar groove between balefulness and petulance, always looking for the instant flick rather than the sort of authoritative touch that would have announced him as a genuine presence, Balotelli betrayed his manager's faith. But City's belief in Mancini will not have been enhanced by the contribution of Tevez, who came on to provide the dynamism that the team had lacked, linking the play and having a hand in both City's goals.